My convictions for environmental concerns overwhelmingly outweigh my convictions about most other problems facing our planet. For this reason, I continually seek out as many ways as possible to bring sustainable methods into my life, my home and my work. Weddings and Interiors are becoming quite popular places for buzz words "eco-friendly" and therefore a crop (no pun intended) of products have surfaced, always seeming to cost more money and are terribly guilty of greenwashing.
For this reason, I was very pleasantly surprised to see a list of more practical and useful tips for greening a wedding in the most recent publication of
Brides Of Oklahoma
. We can thank
Lindsay Gibson
for putting this together, and you can check out the spread on her
website
. It is legit. I recommend every single one of those tips!
In our wedding, we adopted the philosophy that only what we could use after the wedding could be purchased. If I knew that I couldn't gift it, sell it or decorate with it, the guilt of purchasing something for only one day outweighed my desire to have it. Additionally, we made almost all of our DIY projects from materials I already had, such as the birdseed pouches. It was an idea that hit late at night when I was holding pretty fabric scraps that I had no plan for -- and it clicked!
A detail shot: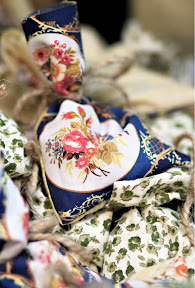 My friend and bridesmaid Whitney, passing them out as the reception was winding down: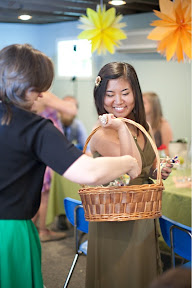 You can read the
original birdseed pouch post
for more explanation on the process.
Any ways you're trying to go a less wasteful route or special things you reuse instead of purchasing new? I'd love to hear about it!