Obviously, this is a peak at the colors we chose for our home. Brandon was unabashed in his hesitation with the colors, so perhaps we should say that I chose them and asked him to trust me???
Score of the century, too -- Home Depot's recent line of low-VOC (Volatile Organic Compounds, those stanky + toxic chemicals that are responsible for the "painter's high") is one of my favorite paints to ever use. FreshAire Choice has coverage that easily rivals a paint-and-primer-in-one and has earth tone color options. Win win! Their downfall: $40 a can. Though not insane, when you're painting two LARGE rooms, a master bedroom and a hallway, and need supplies, painting costs really begin to add up. BUT, happy surprise of January -- Home Depot discontinued and clearanced it!! I bought 7 cans of paint at $10 each, so $70 instead of $280. My joy was unspeakable, well, until I got home and Brandon asked why I went ahead and bought paint a week before we closed. He did a happy dance, too, which in his terms is like a satisfied shrug and an "Oh. Cool."
The very day we signed papers, some incredibly generous friends of ours from the college group came over. Holy hard workers. They're nuts.
I'm going to post the progress of one room at a time so the process makes sense. Check back for more rooms -- and tomorrow, I'll show current pictures! Woot!
Empty Fireside/Dining/Kitchen at move-in: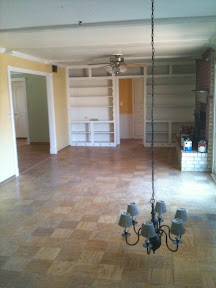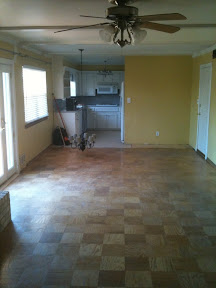 During Paint Party:
I really, really apologize for a sideways photo! Eeek. Posting from my phone has its disadvantages.
Then, the next day, empty:
The walls are a milk chocolate brown and the fireplace is a mid white.
By the end of the weekend: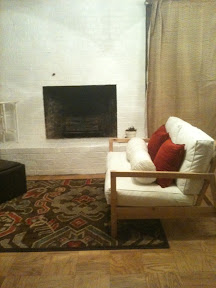 And, believe it or not, it has different furniture and rugs here now. Oops.
(Rug and pillows from Target. Loveseat, chair, and dining furniture hidden in the background from Craigslist.)
Next up -- the living room!!