This evening should bring the Undecorated Symphony Showhouse Preview Party, weather permitting. In honor of this possible, but unlikely (again with the weather) occasion, I thought I'd share my plans for the space!
The room is a bar and/or butler's pantry that's approximately 12' x 12'. While that's average for a bedroom or so in most of of homes, I'm quite confident that I'm responsible for the least amount of space in this renovation!
As you enter the estate, this room is Immediately to the right, as part of the east wing. The hallway presently is in this state:
Standing in the door of the butler's pantry, you face 1/3 of the formal living room:
Getting back to the bar itself:
Black marble floors, black granite counters, gold swan sink and faucet fixture, and really dated hunter green wallpaper.
From the view of the other rooms, you can see that the woodwork is a vital texture and architectural element throughout most of the home. For this reason, I'll be leaving it as it is. Otherwise, my changes look like this: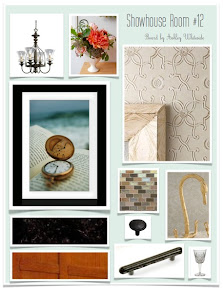 An explanation: The sink and faucet are an interesting touch that are too unique to ditch, though I probably would not have ever thought to choose them. Counters, granite and glass shelves also stay. The wallpaper I've chosen is vintage and the new hardware is recycled, hammered iron in a semigloss black. The recycled glass tile backsplash will be installed between the counter and shelving, as is usual. His collection of crystal will remain on display, and across the room from this view is a small bar area, above which will hang this large print from local photographer Samantha Lamb!! We will be more creative with the framing than shown here, so that'll be a surprise for you. I think this photo is crucial, along with the lighter colored walls, for opening up the space, almost as if there was a window in the room that opened up to the ocean. Above that photo will hang the shown chandelier that is neither too masculine nor feminine for this space. Lastly, I'll be arranging some fresh local blooms in an antique pitcher for the countertop.
I think the small dungeon of a room needs life and breath! I'll keep you posted with my attempts to resuscitate.